Here's to your good health: it's a toast we're all familiar with. But how does the harmonica fit into the picture? Over the years, scores of people, both within and outside of the medical community, have dedicated their lives to finding the answer to that musical question.
And while there's no definitive answer ─ no large and independent study published in one of the recognized medical journals on the health-related benefits of playing the harmonica, there's good reason to believe that they extend far beyond the obvious joy of making music.
Taking Breathing for Granted
Take breathing. Most of us never think or worry about it. It's something that comes naturally. We just do it. But for millions of people, breathing is a daily struggle, whether they are dealing with illnesses that fall under the COPD umbrella like asthma, or restrictive lung diseases where the lung tissue itself becomes diseased or compromised.
People who deal with these issues are often tied to their homes and/or oxygen tanks, becoming increasingly isolated and depressed. And while medicine does what it can to stop the progression and alleviate the symptoms of these diseases, as yet there is no one-size-fits-all panacea, let alone, cure.
But there is something in the air that bears watching: the sound of music ─ specifically, the sound of the harmonica.
Why the Harmonica?
Because not only do you exercise the lungs when you play it, says Dr. John Schaman, "but it is the only instrument that makes a sound when you both blow and draw." The sound of air moving through the reeds ─ in and out and in and out ─ is both stimulating and relaxing, a happy oxymoron if there ever was one.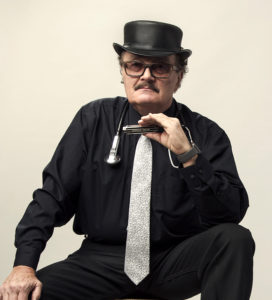 But we're getting ahead of ourselves, as it wasn't the harmonica that drew the doctor's attention to the subject; it was the subject that drew the doctor to the harmonica.
After more than thirty years of practicing sports and cardiac rehabilitation medicine in Southern Ontario, Canada, a simple, otherwise routine act would change the doctor's focus.
He remembers the day well. While testing a new piece of equipment on himself, he was distressed to find that his lung function had decreased dramatically since the last time it had been tested some 30 years before. Upon researching the subject, he was surprised to learn that it was considered normal to lose half of one's lung function between the ages of 30 and 70.
Normal? Really? And so the question became, was there anything he ─ or anyone ─ could do that wasn't already being done to improve these statistics?
The doctor studied the way the lungs work, the muscles involved in the moving of air, and the segment of the general population that seemed to beat the odds, presumably by giving their lungs a good workout.
Designing a program that would allow the rest of us to safely exercise our lungs was a challenge, even more so for those whose breathing was compromised.
Given the fragile nature of the lung's sponge-like tissue, and the fact that there is no muscle in the lung itself, traditional strengthening exercises are not helpful. And aerobic exercises, while beneficial to the heart and general fitness, didn't exercise the lungs' breathing muscles. And so the challenge was to design lung-specific exercises that targeted the inhaling and exhaling muscles. A program that had the potential of developing, reviving and recruiting dormant areas and getting them back into action could be life-changing.
A Fun and Functional Harmonica Program
But taking people out of their comfort zone is never easy, especially when you're talking about those who have altered their daily lives to accommodate their breathing issues. It soon became apparent that if the program was to work, it would have to be tough enough to get the job done, while being enjoyable enough to stick with: a regime that might even be ─ dare we say ─ fun?
The doctor turned his attention to strengthening the muscles associated with inhaling, muscles that don't get the benefit of the extra activities enjoyed by the exhaling muscles (i.e. singing, talking, etc.) His research led him to the harmonica, which, as noted earlier, is the only instrument that "makes music" when inhaling and exhaling, exercising both sets of muscles in the process.
The idea of building a program around the instrument made sense. There was just one problem: outside of this rudimentary knowledge, Dr. Schaman had no idea how to play the harmonica or what was involved in its manufacture.
Determined to find out, the doctor would spend the next two-plus years meeting and tapping into the brains of some of the most respected manufacturers, teachers and performers in the industry. By 2008 he had put together an exercise program using a standard 10-hole key of C diatonic, and set to work.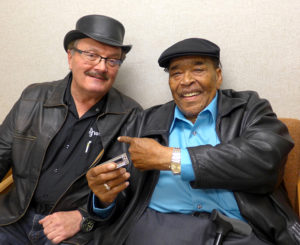 But after a few years, a small but unsatisfying study led the doctor to rethink using a regular diatonic, and look into creating an instrument more suited to these individuals' needs, while maintaining musicality.
The resulting diatonic chord harmonica was a collaborative effort between the doctor and the team at the Seydel harmonica factory in Germany. Known as "the medical harmonica", the instrument allowed players to challenge their lungs more by playing multiple holes at one time, a process known as chordal playing. As a result, says Dr. Schaman, his clinic started seeing improvement in breathing muscle strength
The idea of the harmonica being a pathway to better breathing is not a new one. Others around the world have studied the possibilities as well.
Enter the Pulmonica
The Pulmonica, which is also manufactured by Seydel, offers another alternative to the basic diatonic. Says Dr. Dana Keller, who, along with his wife Mary Lou, created the instrument, "Its lower tuning makes it harder to play than most harmonicas, so it exercises the muscles around your lungs and makes them stronger with regular use." He also notes that the Pulmonica's lower tuning vibrates the lungs and sinuses to help loosen congestion.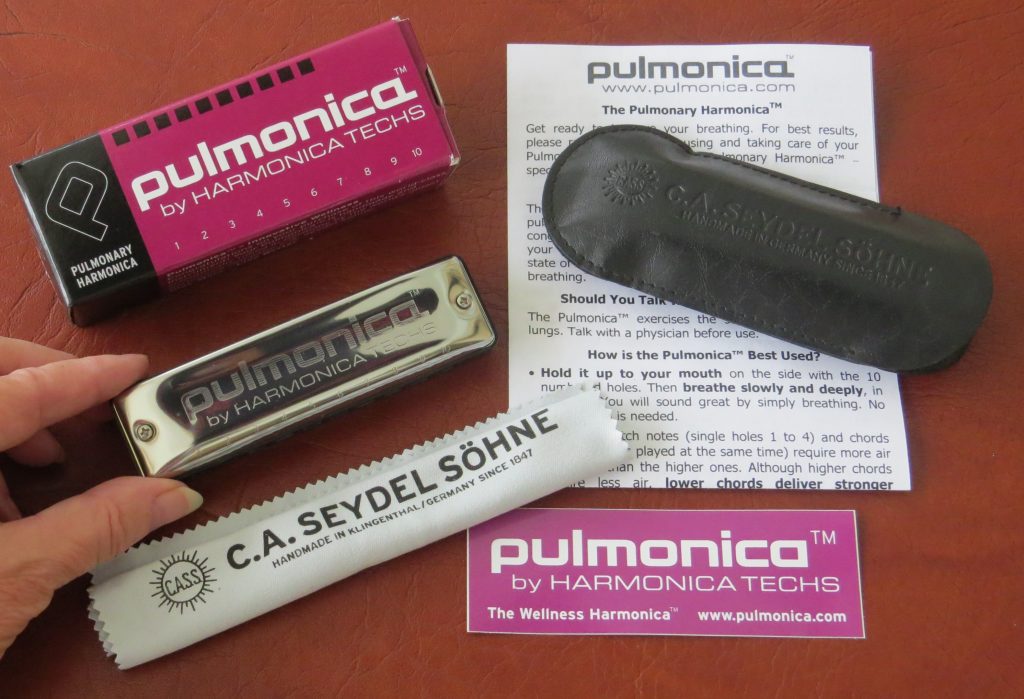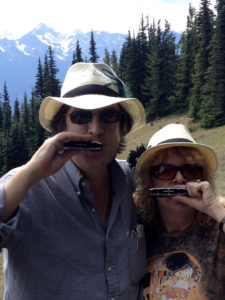 Dr. Keller recommends that those wishing to increase their lung power take long slow deep belly breaths on the lowest notes that you can manage, moving on until you reach the very lowest note. The lower the notes, the more resistant. Says Dr. Keller, "Playing multiple notes/chords offers even more resonance for your lungs and more exercise for your chest muscles and diaphragm." He also notes that the very act of breathing slowly and deeply is both meditative and relaxing.
According to the instrument's website, a small, four-month, medically supervised trial in 2013 was encouraging, with participants ─ all of whom had Stage 3 COPD ─ "agreeing that the more they played the Pulmonica, the better they breathed and felt."
But how about the fresh-out-of-the-box, tried-and-true diatonic? Is there anything to suggest that you can benefit from playing this readily available, and considerably less expensive instrument?
All signs seem to point in the right direction, with programs like the Harmonicares program seeing some promising results.
Helping Patients to Breathe Easier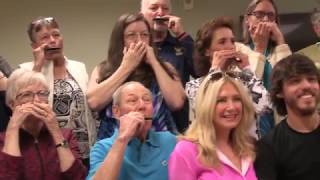 Jeff Bernstein leads a group of patients battling chronic lung disorders in an hour-long session each week at the Holy Name Medical Center in Teaneck, New Jersey. Most are what some would refer to as 'elderly', with a few whipper-snappers in the group as seen in the video below. But, despite the difference in their ages, they have a lot in common, as everyone has some sort of breathing limitation, and all of them are anxious to breathe easier.
Bernstein is retired and came to the harmonica late in life, when he had time to spare, and found himself spending a good bit of it on the Internet looking for a particular piece of music he had enjoyed as a youngster. It took him a while (years in fact), but when he finally found it, he was determined to learn how to play it.
The tune, a Richard Heyman composition, featured the harmonica, and Bernstein ─ who had never played the harp ─ decided to accept the challenge, more than enough to play Haymen's tune, and confident enough to play semi-professionally. When he heard about the Harmonicares program through the Society for the Preservation and Advancement of the Harmonica's (SPAH) Garden State Harmonica Club and sponsored by the Holy Name Hospital, he signed on as a volunteer leader. The program was the brainchild of Karine Shnorhokian, a registered nurse, whose friend's mother suffered from COPD.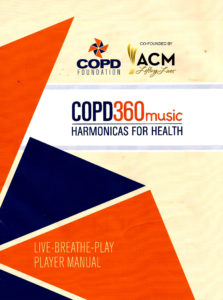 Bernstein says that members come and go, many of them signing on for multiple six-week sessions. Many say their breathing has improved, and tell of increased stamina ─ particularly in going up and down stairs.
Like the Holy Name Hospital program, the COPD Foundation's COPD360 music Harmonicas for Health program requires nothing more than an inexpensive diatonic.
For somewhere around 15 dollars, participants receive a kit consisting of a harmonica and the organization's Live-Breathe-Play player manual, which is loaded with information on how the lungs work, the ins and outs of COPD, various breathing techniques, and the benefits of playing the instrument. It also includes tips on how to hold and care for their harmonica, lip placement, practice exercises and several tunes to get them started.
Those wishing to join the program as a leader don't have to know how to play the harmonica before signing on. For just a few dollars more, the Foundation provides them with a more extensive kit.
The program was co-founded by the Lifting Lives Foundation, the charitable arm of the Academy of Country Music. And while there is no published data on the success of the program, there is plenty of positive anecdotal information.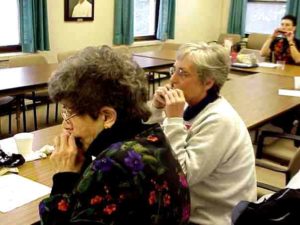 According to Jane Martin, the COPD Foundation's Assistant Director of Education and Manager of the Pulmonary Empowerment Program, in addition to exercising the diaphragm, playing the harmonica also exercises those muscles between the ribs.
And there is strong evidence to show that there are all sorts of emotional benefits associated with participating in these programs and playing the harmonica in general.
The Life-Changing Benefits of Playing the Harmonica
As anyone who owns one can tell you, playing the harmonica can be a major stress-reliever. Having a bad day? Sit yourself down, take your harmonica out of your pocket, and play a while. Ahhh, that's better!
Playing the harmonica also encourages patience and purpose, notes the COPD Foundation, gives you a sense of accomplishment, and helps improve your quality of life.
Just ask Larry Rawdon, professional musician and two-time lung transplant recipient. Rawdon coaches members of the Jacksonville Florida Heart and Lung Transplant Support Group at the Mayo Clinic.
Programs like the ones described in this article have the added benefit of increasing socialization, as people come together working towards a common goal and enjoying a host of side benefits, not the least of which is the companionship, camaraderie, good times and great sounds. The solitary become engaged, informed, and in the loop. And members learn from each other, sharing tips and information on how to live a better, fuller life.
Their words speak volumes. "We have a real good time. We learn how to play the harmonica some," says one member of the Harmonicas for Health program, adding "…we laugh as much as we play… the camaraderie is wonderful, and it's a great way to support each other." Says another, simply, "I love the music: I love the harmonica… It's changed my life."
One participant, who has lived with COPD for some 12 years, reports, "I've actually been able to go out and do fishing a little bit for the first time in about two years." We'd say that's reel progress!
Choosing the program and harmonica that best meets your needs and budget is up to you.
There's a Harmonica Program for Everyone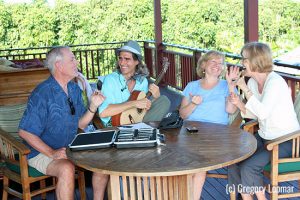 JP Allen's Harmonica Retreats in Kauai, Hawaii, are a great way for everyone, from beginners to advanced intermediates, to rest and relax, mix, mingle and jam, take classes, learn breath and meditation techniques, and become more confident players, with time out for enjoying all of the wonders and magic the island has to offer. Says Dr. Schaman, who attended two of JP's retreats, "I found JP to be a very capable and patient teacher who had a particularly strong skill in advancing raw beginners through the early stages." The doctor would return to talk about lung disease, share the story behind the medical harmonica, and lead a seminar on chordal rhythmic playing.
No matter where your interest lies, chances are there's a harmonica and program out there with your name on it. Retired Army Sgt. Joshua Geartz was struggling with PTSD after a tour in Iraq resulted in a traumatic brain and spinal cord injury. The Army vet was recently profiled on CBS This Morning, where reporter Jan Crawford noted that "His two lifelines were his love of the harmonica and his wife Lisa", who enrolled him in a 2015 Song Writing for Soldiers retreat.
The program pairs professional musicians with vets, helping them put their thoughts to music, while sharing their experiences with others. According to Crawford, "The events are equal parts group therapy, writing workshop and jam sessions."
For Geartz, putting his words to music with the help of singer/songwriter, Mary Gauthier helped him to work through his pain. The resulting song, Still on the Ride, shares his story and the depth of his grief at losing his best friend and fellow soldier in Iraq.
"I shouldn't be here; you shouldn't be gone
But it's not up to me who dies and who carries on
I sit in my room; I close my eyes
me and my guardian angel we're still on the ride"
That "ride" would take him to Nashville, Tennessee, where, harmonica in hand, Geartz joined Gauthier on stage at the Grand Ole Opry and other venues. It is their hope and belief that the song may help others dealing with similar issues.
Stories like these have prompted researchers to take a closer look. According to that CBS report, two studies are in the academic pipeline "on the power of music to help heal traumatic brain injuries".
Meanwhile, doctors are prescribing music therapy for everything from learning disabilities to heart ailments and Alzheimer's disease.
All of which is to say that, if nothing else, music makes the world a bit larger, and life a bit sweeter. Playing the harmonica is good for the soul. The idea that it may help people feel a little better and breathe a little easier in the process is music to our ears.
And speaking of ears, studies have shown that the very act of listening to music can be beneficial to those dealing with everything from learning disabilities to post traumatic stress disorders and hypertension.
And, as it turns out, music in general, and the harmonica in particular, can also be downright inspiring. Writes Mary Lou Keller, "Dana learned harmonica with online lessons in just a few weeks, which led us to a harmonica convention (SPAH), which is where the idea for the Pulmonica originated."
So, here's to your good health… to music, and the joy and difference the harmonica can make in your life.
To learn more about the programs and products mentioned in this article, go to one or all of the following websites:
COPDfoundation.org and click on "Learn More"