These days there are SO MANY CHEAP harmonica options for beginners out there on the internet, I thought, "I wonder what's the deal with all these cheapo harmonicas? Do they all just suck?" So I decided to go and buy 6 of the most highly-rated cheap harmonicas on Amazon to see if any were actually worth their salt.
Got More Cash to Splash?
I've already written about my top recommendations for which harmonicas a beginner should consider purchasing: Lee Oskar or Hohner Special 20 if you can afford it ($40-$50 price range,) or if you just want to dip your toes in the water, or you're on a very tight budget ($10-$19 price range): East Top Too8K, or Hohner Blues Band, or the Fender Blues Deluxe. If you want to learn about those harmonicas in detail, check out Which Harmonica to Buy.
Will I still stand by my advice to look towards the go-to harmonicas listed above? Are they indeed the best? Or is some sleeper cheapy harmonica that I didn't even know about gonna steal the spotlight?
What Makes a Harmonica Rating System Awesome
The categories that I use when evaluating harmonicas, ordered here from most to least important to me are:
1 Responsiveness – How long from the time I blow/draw to time I hear the note?
2 Tone – Bright vs Dark, Thin / Tinny vs. Nice Bottom Weight, Loud vs. Soft, Is it in tune?
3 Bendability – How easy is it to activate and control bends?
4 Comfort – Most importantly, is comfy on the lips? What about holding it?
5 Looks – Is she sexy? Cos, hey, looks do matter! 😉
Again, those are listed above from most important to me (Responsiveness) to least important to me (Looks.) But different people may value the categories in another order, so I just weigh them all the same, all within the context of price.
I recommend not purchasing a harmonica with a score of less than 3.6 / 5 stars. I mean you could, but why? Life's too short. And for harmonicas rated 3 stars or less, my advice: run away as fast as you can! A bad harmonica will give you a bad experience and maybe even make you want to give up on the simplest, most fun, easiest to learn, and most portable instrument on the planet.
The Cheap Harmonica Roster
I decided to note the price of each of these budget harmonicas on Amazon.com on the day that I put them through their paces, to provide context for how these harmonicas should relate to each other (in a perfect world of course, a more expensive harmonica is better quality.) ⚠WARNING: Harmonica prices change often! But here's what cheap harmonica prices looked like on Amazon.com when writing this:
The Defending Champions of Cheapo Harmonicas
The East Top T008K Blues $19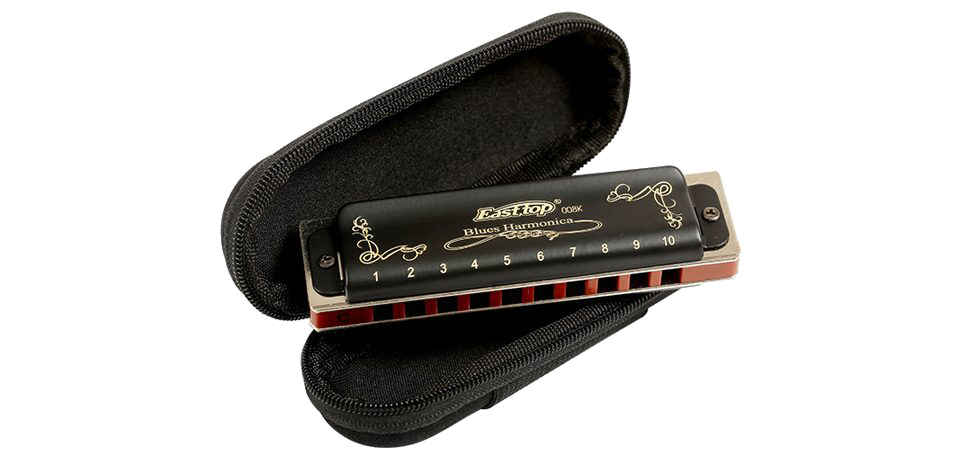 I give this harmonica a 4.6-star rating, and at the time of this writing 1,338 people give it an average rating of 4.6 stars on Amazon.com. My Ratings: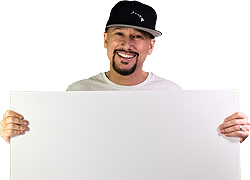 The Fender Blues Deluxe $16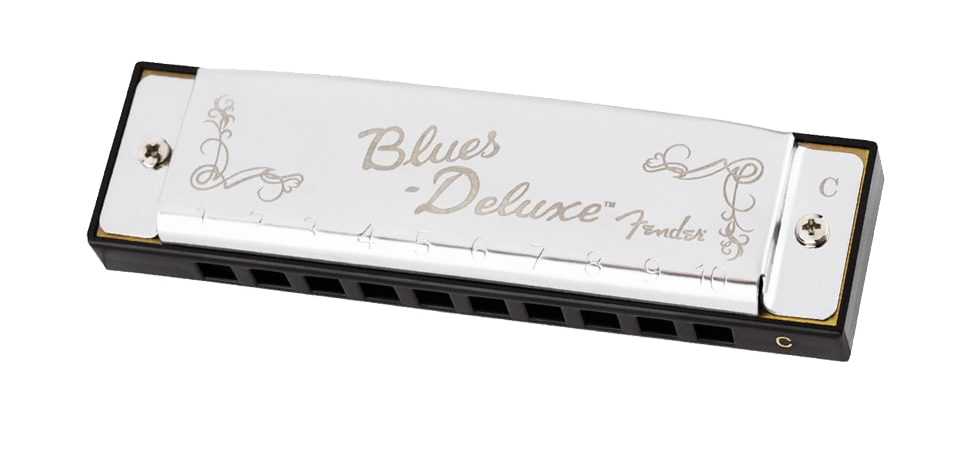 I give this harmonica a 4-star rating, and at the time of this writing 14,000 people give it an average rating of 4.5 stars on Amazon.com. My Ratings: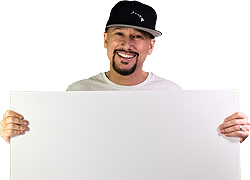 The Hohner Blues Band $10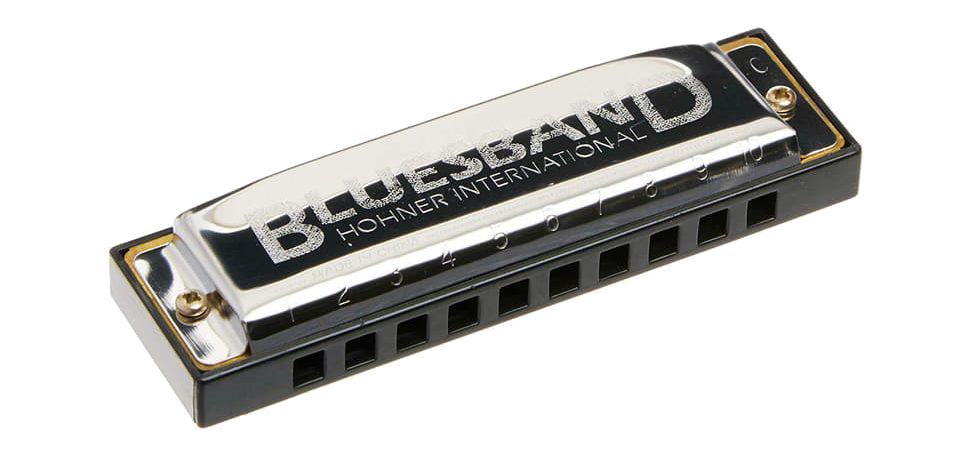 I give this harmonica a 3.6-star rating, and at the time of this rating, 1,950 people give it an average rating of 4.5 stars on Amazon.com. My ratings: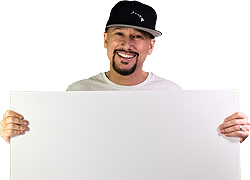 The New Contender Cheapo Harmonicas
1 East Rock – $10.99
2 Small fish – $10.95
3 Anwenk – $9.99
4 Johnson– $8.31
5 Neuma – $7.99
6 Souidmy – $7.99
Just like the East Top Too8K, all of these inexpensive harmonicas also received about 4.5/5 star ratings on Amazon.com. So will any of these newcomers upset the reigning champs? Let the competition begin, FIGHT!
East Rock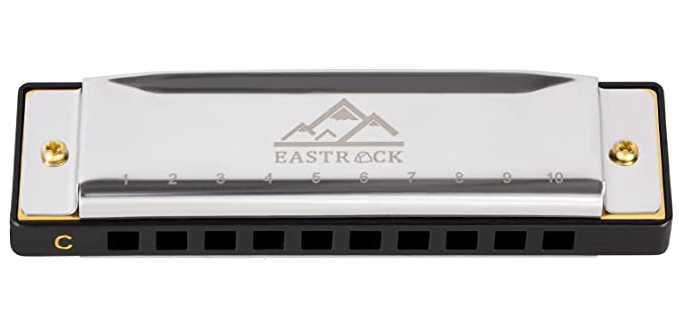 The East Rock harmonica is built of solid materials: ABS plastic comb, phosphor bronze reeds, and stainless steel coverplates, attached with one Phillips head screw on each side. It ships with a reasonably sturdy black plastic case.
When I first played the East Rock I was pleasantly surprised. It's not a bad harmonica at all. I'd say it's on par with the Hohner Blues Band. Responsiveness, and Bendability are very similar to the Blues Band. I prefer the tone of the Blues Band ever so slightly as it's a bit brighter.
The East Rock has a dark tone. It also has dark coverplates, which I think make it very sexy looking compared to the Blues Band. So is it worth an extra $2? I'll let you make that call.
I definitely prefer the East Top Too8K to the East Rock because it's more responsive, and slightly easier to bend, and has a better tone. If you want to get a playable, but really cool looking harp, the East Rock may be your harp. But, if you're looking for the best budget harmonica, I think it's worth shelling out a couple more bucks for the Fender Blues Deluxe.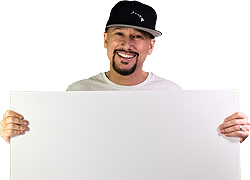 Small Fish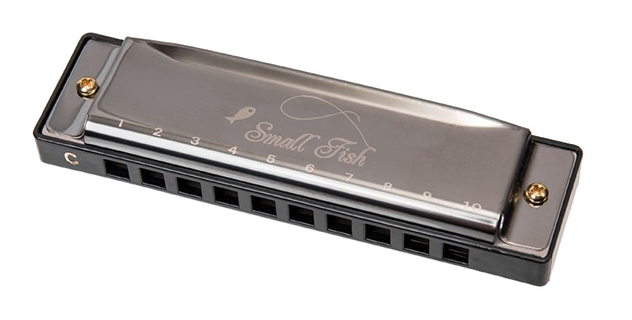 The Small Fish harmonica is the only harmonica of the lot that does not ship with its own plastic carrying case. Instead it comes with a gray bag inside of a little cardboard box which says "Ages 3+" which immediately made me set my expectations low.
This was possibly the worst harmonica I've ever played. Not only is it unresponsive, but the -1, -3, and -6 made absolutely no sound! Is it possible that I just got a lemon? It's possible, but I've probably played 30 or 40 different models of harmonicas, and I've never come across a brand new one that literally made no sound on a hole!
My reaction to the Small Fish harmonica is the same that I would have if I was fishing and caught a small fish: throw it back! It's not worth keeping!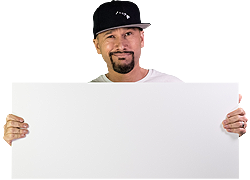 Anwenk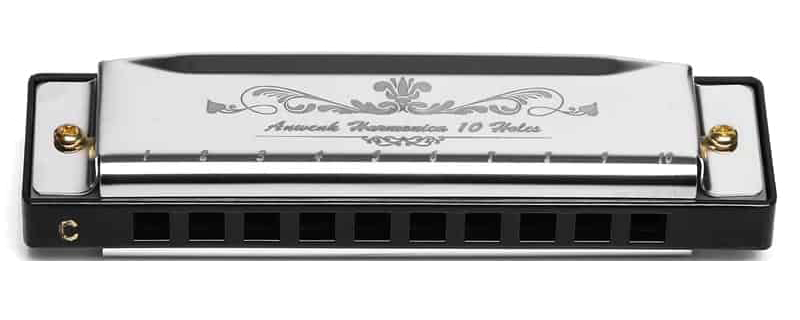 The Anwenk harmonica description doesn't say what its reeds are made of, but interestingly its reed plate is made of copper.
Nothing impressive about this harmonica. Less responsive and less bendable than the Hohner Blues Band, and a dollar more expensive. The tone is darker, and it's also very out of tune.
My advice is to pass on this. It's sort of playable, but why not just get a Blues Band since it's so much better?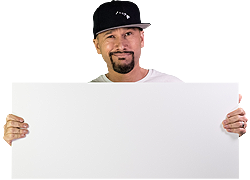 Johnson

The Johnson is another harmonica made with ABS plastic, stainless steel covers, and bronze reeds. Its box is described as "featherweight" which I think is a euphemism for cheap. Of all the harmonica's that shipped with plastic cases, this case seems the worst. Mine shipped with blue plastic protective film on the cover plates, pieces of which stuck and could not be removed.
The -1 had a buzz not tolerable. So the tone on that hole exceptionally terrible, but the tone in general is not good – darker and quieter than the Hohner Blues Band. The responsiveness was also very bad, with there always being an unacceptable delay between when I blow/draw and when I actually hear the note. The tone and the responsiveness of the Johnson make the Blues Band sound and feel like a Cadillac!
Very difficult to control the -3 bends, and the blow bends would often squeal.
I'd recommend not purchasing this harmonica.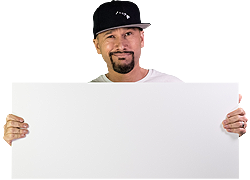 Neuma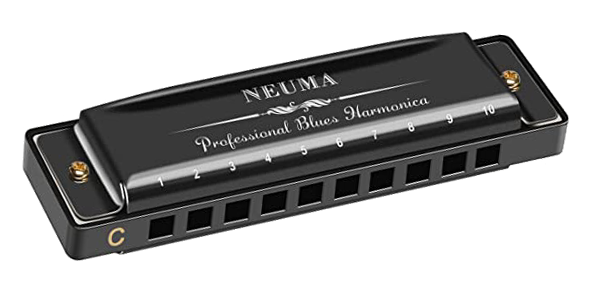 The best thing about the Neuma harmonica besides its price is its looks. Its tone and responsiveness are very similar to the Johnson harmonica, and its bendability is only slightly better, but I couldn't bend both blow half-steps on hole 10.
It might be the best buck you ever spent to go with a Hohner Blues Band instead of the Neuma.
Although it's a solidly constructed harmonica, again with black ABS plastic comb, phosphor bronze reeds, and stainless steel cover plates, not to mention that the included instructions are enjoyable to read, the Neuma just doesn't perform well enough or sound good enough for me to be able to recommend buying it. You're better off with a Blues Band.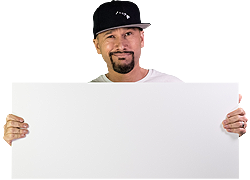 Souidmy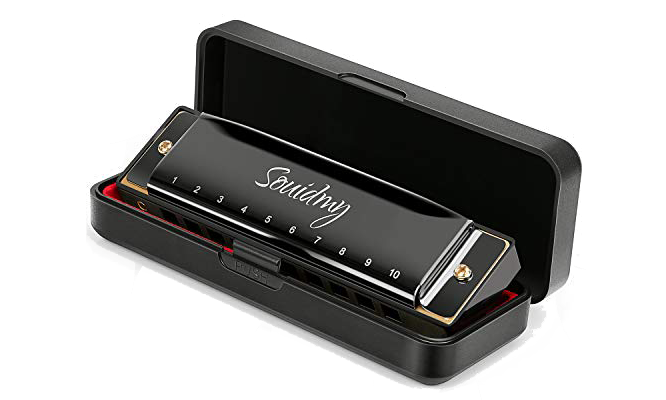 First of all, the Souidmy harmonica marketers have got it going on. The cardboard box that contains the Souidmy harmonica and its plastic box creates an experience not unlike buying a product from the design masters at Apple, and under the "Souidmy" logo on the box is the axiom "Bluesify Your Life." Who in the heck thought of that? I love it!
When I open the box there's a card that reads "To Best You." I'm like, "I love these guys!" Still, being one of the cheapest harps, I wasn't exactly holding my breath.
However I was immediately impressed by the responsiveness of this cheap-ass harmonica. Although it isn't quite as responsive as the Fender Blues Deluxe, it's more responsive than the Hohner Blues Band!
Its tone is a bit darker and quieter than the Fender Blues Deluxe, but it's about on par with the Blues Band. The Souidmy is a real contender in the fight for a good cheapo harmonica!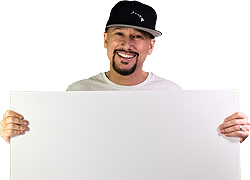 Are Cheapo Harmonicas Any Good? (Not Really)
So in the world of harmonica it still seems true that you get what you pay for. Of all these new cheap harmonicas, the Souidmy sticks out from the pack as a great cheap-ass harmonica. The East Rock is not a bad option if looks matter as much as musical components.
I still consider the East Top Too8K and the Fender Blues Deluxe to be the best budget harmonica, and I'll go on confidently recommending the Hohner Blues Band as great choice for those wanting to dip their toes in the water or on a very tight budget, but I'll have to now say that the Souidmy is the cheapest harmonica that I think is worth buying. Any of those would be half-decent choices for learning harmonica on (like if you're doing my Beginner to Boss course *nudge, nudge, wink, wink* 😉 )
And, echoing my advice regarding the East Rock, if looks matter to you as much as musical components, the Souidmy might be the best choice of all!