Not sure which harmonica is right for you? On this page you'll find my in depth recommendations whether you're a beginner intermediate or pro.
My recommendation is the culmination of 25 years of performing with bands, doing studio recording sessions, and teaching the harmonica. Let's start with the beginner budget harps aka "starter harmonicas"…
For Beginners on a Budget
#1 BUDGET HARMONICA FOR BEGINNERS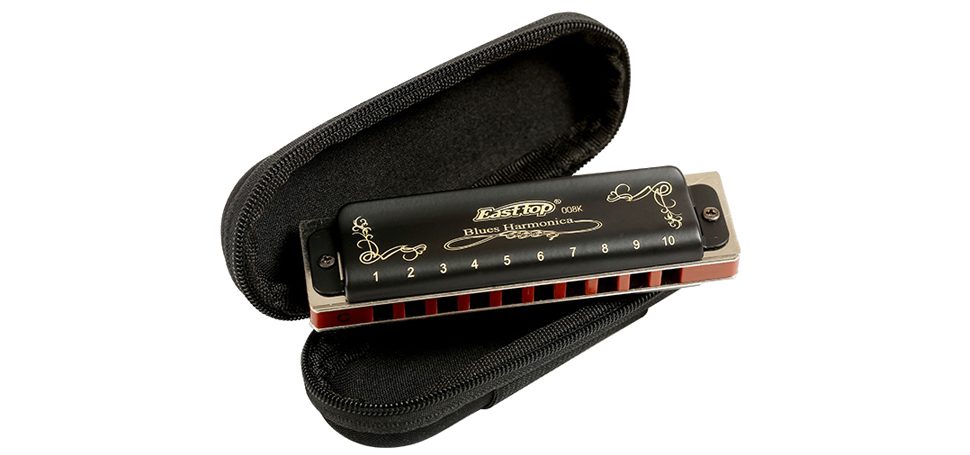 This harp plays and sounds great, it definitely feels even more responsive and more brighter toned than other harps in the same price bracket. The East Top T008k bends easy, and has similar responsiveness and bendability in the lower register as the much more expensive Hohner Special 20. It's not as responsive in the higher register, but overall this harp is great value for the money! Best bang for the buck, if you're on a budget, hands down.
#2 BUDGET HARMONICA FOR BEGINNERS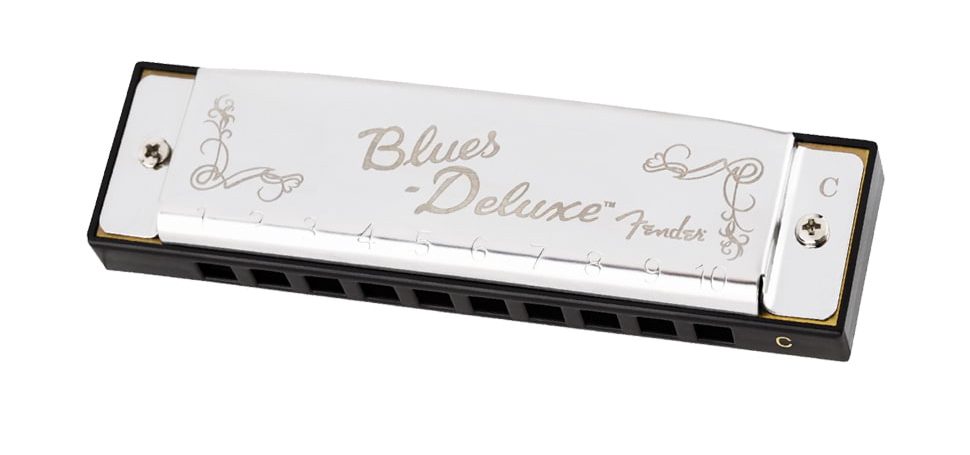 If you're a beginner who'd prefer to "test the waters" (i.e., make sure you're serious about sticking with harmonica before you invest), the Fender Blues Deluxe will get you off to a fantastic start. It's a great harmonica for saving dollars while you're learning all of the fundamental harmonica techniques, including bending notes on the harmonica and playing more bluesy harmonica songs.
#3 BUDGET HARMONICA FOR BEGINNERS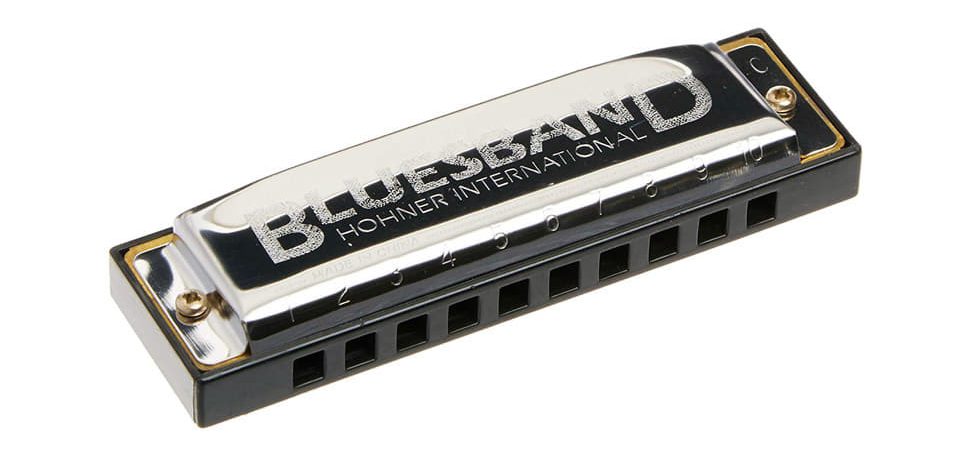 If you want to invest even less, the Hohner Blues Band is an inexpensive harmonica that will get you off to a nice start. It's good for saving dollars while you're learning your early harmonica fundamentals, like the deep relaxed mouth position, and how to isolate notes. It has a quieter projection (which can be a good thing if you're trying to not disturb others!) a darker tone, but is much more difficult to bend notes on, when compared to the East Top T008k or the Fender Blues Deluxe. That being said, if you're looking for the a very low cost way to start playing, I recommend a Hohner Blues Band in the Key of C.
For Beginners & Intermediates
If you're confident you're going to stick with the harmonica, or if you just want to invest in a higher performing instrument right from the start, I have 2 recommendations for great harmonicas that are highly responsive (easy to play) and have great tone.
Bang for the buck I recommend:
#1 HARMONICA FOR BEGINNERS TO INTERMEDIATES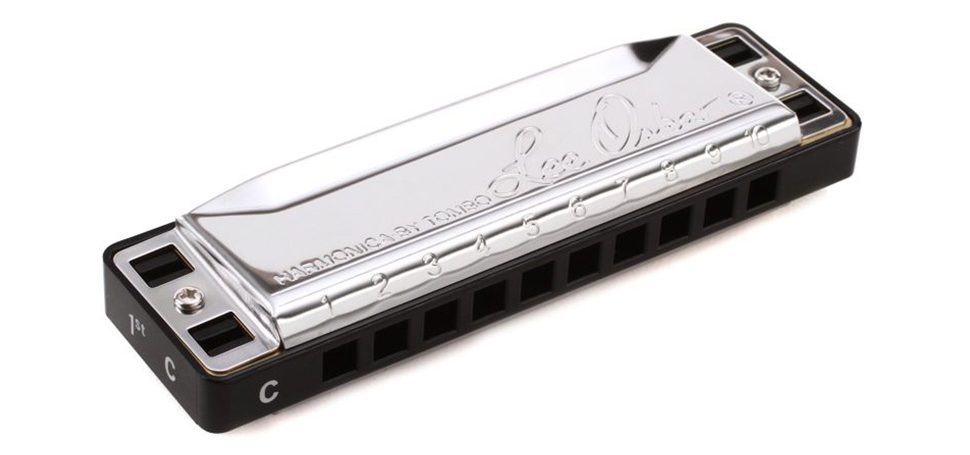 #2 HARMONICA FOR BEGINNERS TO INTERMEDIATES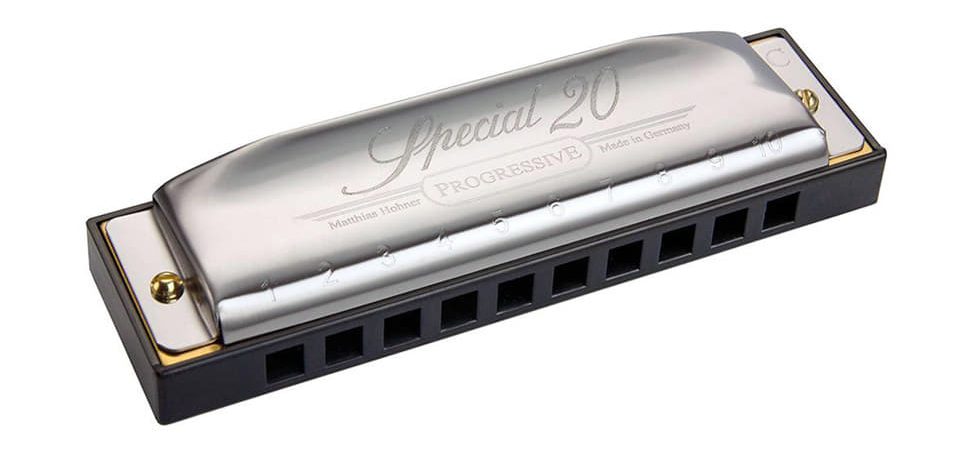 What makes both the Lee Oskar and the Special 20 harmonicas great is that they are relatively affordable, they have great (loud) projection, they are responsive (easy to play,) they are in tune out of the box, and they are easy to bend out of the box. They also have plastic combs which are much easier on the lips than the wooden combs that are in harmonicas such as the Hohner Marine Band 1896. Wooden combs have a nice "woody" tone, but are very painful on the lips when playing for long periods of time.
For Advanced Intermediates to Pro
First of all, plenty of professionals play Lee Oskars (Junior Wells, Taj Mahal, Keb'Mo', Lee Oskar himself, just to name a few), and plenty of professionals play Special 20's (Neil Young, John Popper of Blues Traveler, Magic Dick, Charlie McCoy, just to name a few.) So, once again, the aforementioned both are great, professional harmonicas to invest in, and they're reasonably priced. However, if you're the sort of person who enjoys purchasing the most finely crafted instruments, then you'll enjoy checking out the Hohner Crossover and the Seydel Silver 1847 below.
#1 HARMONICA FOR ADVANCED PLAYERS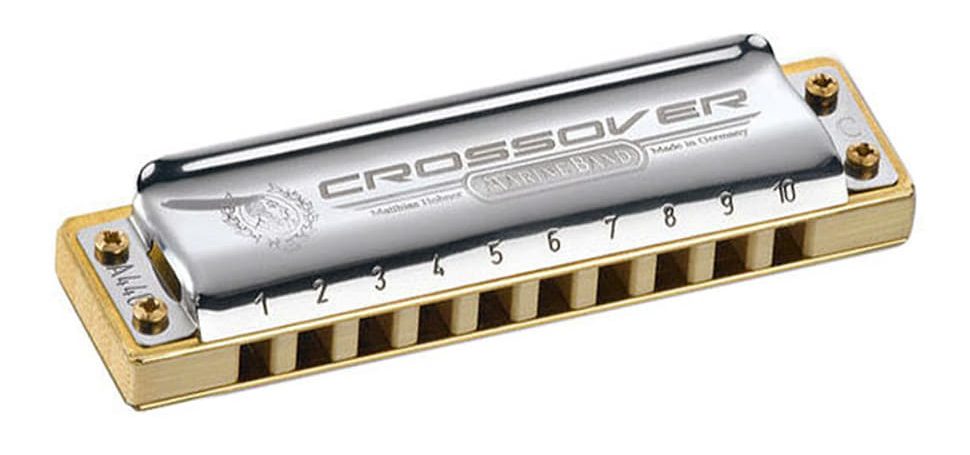 I must say, I absolutely love playing my Hohner Crossovers. They have a beautiful tone, which is brighter than the Special 20, and fairly comparable to the Hohner Marine Band, but they are much more comfy on the lips than the Marine Band. The comb is a triple lacquered bamboo, which is much less prone to splintering or cracking compared to a Marine Band, and also just feels so nice on the lips. These play great right out of the box, and require no customization. Are they worth the price? I'll leave you to make the call.
#2 HARMONICA FOR ADVANCED PLAYERS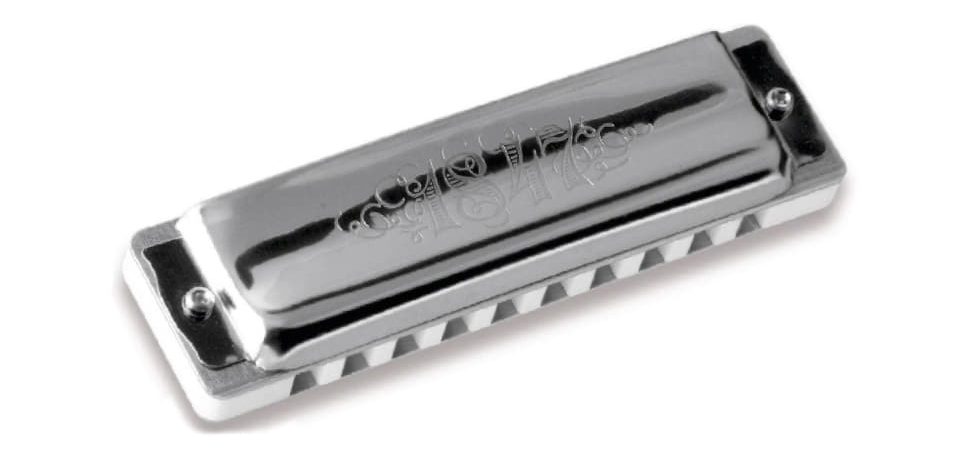 Seydel is a very well respected harmonica brand, endorsed by the likes of harmonica Blues legends James Cotton and Charlie Musslewhite, just to name a couple. Honestly, I don't play my Seydel 1847 Silver much, but I put it here because they are JP Allen's #1 favorite harmonica, and I respect him so much. The reason I don't play mine is that I find it to lack the responsiveness that I seek, especially in -2 and -3 holes.
But, according to JP, the 1847's have to be customized by a harmonica technician for optimal performance (i.e., they're not the best performing harmonicas out-of-the-box, but in his opinion, they are the best once they're customized). JP recommends two possible one-man-shop professional harmonica technicians who can set them up for you, both of whom he has had good experience with:
Greg Jones: JP recommends his Overblow/Overdraw set up. You'll find his customized harps at 1623customharmonicas.com.
Burke Trieschmann: He customized a Seydel 1847 Silver for JP with spectacular results. You can reach him at info@opendoorprod.com or check out his website at Opendoorharmonicas.com.
I have not personally used these guys, but as I mentioned, because I respect JP Allen so much, I wanted to include this info here for those of you who might be interested in seeking out the best of the best quality instrument. So if you're the sort of person who wants nothing but the best, and you have the money and time to invest, perhaps consider purchasing a Seydel 1847 Silver and get it customized by one of JP's recommended technicians, or any other experienced professional. I intend to get these guys to set up a couple for me at some point, and will get back to you here once I do it!
The Very Best Harmonicas
If you want the very best and money is not an object, consider a Hohner Crossover. If you want the very best, and money and time is not an object, you could order the Seydel 1847 Silver from us or directly from one of the technicians mentioned above.
If you're in the game of saving money while still getting a professional-level harmonica, go with the Lee Oskar or the Hohner Special 20, which both will sound great out-of-the-box without any customization.
If you're on a budget, or you just want to test the waters, go with the East Top T008k or Fender Blues Deluxe or the Hohner BluesBand.
Why should beginners start with a harmonica in the key of C?
I recommend you start with a harmonica in the key of C for several reasons. Most importantly, a C harmonica will enable you to be in tune with the majority of beginning level harmonica lessons.
Why don't you recommend a harmonica with the side button?
If you are a beginner or a non-musician, I don't recommend a harmonica with a button on the side (chromatic) because it's a much more challenging instrument. I recommend you get off to a great start with the standard 10-hole harmonica (diatonic) first and then you can progress to a chromatic harmonica if you choose.
Luke's Harmonica Ratings
This is a list of harmonicas that I have spent time reviewing. They are presented here in my subjective, humble opinion from best to worst, irrespective of price. If you own, or if you plan to buy a harmonica 4 stars or above you're GOLDEN. If you're in the 3.4-4 star range you're good to go. If your harmonica is in the 3.2 or below range, or if it's on the list of other harmonicas that I don't recommend, or if it has more or less than 10-holes, or if it's not in the key of C, then I recommend that you consider purchasing a 10-hole harmonica in the key of C from the list below with a rating of 3.4 out of 5 stars or better.
All My Harmonica Ratings
Scores out of a possible 5 stars
The Best
---
Great
---
Good
---
Think Twice
---
Run Away!
---
Other harmonicas I don't recommend for most beginners.
All the mini harmonicas (keychain, Puck, Double Puck)
All of Hohner's Echo, Octave, Auto Valve, and the Tremolo Tuned harps
Hohner Trumpet Call
Hohner Weekender
What Makes a Great Harmonica?
For me, the thing that determines a great harmonica is a combination of two things:
The "purity" and quality of the sound, and the harmonica is in tune.
The responsiveness of the reeds (how quickly the reeds react to the movements of my mouth and tongue to produce the desired effect).
How comfortable it is on my lips and in my hands.
How excited I get when I see it. (Does it call to me, "Play me, play me!")
What is a Diatonic Harmonica?
"Diatonic" refers to a harp that commonly has 10 holes and plays the scale to which it is tuned (diatonic harmonicas DO NOT have a button on the side). For example, a C diatonic harmonica is tuned to the key of C, which will enable you to easily play the C Major scale. All the economical and professional harmonicas in the above lists are diatonic.
"Chromatic" harmonicas DO have the side button, enabling them to play all 12 keys. They are considerably more difficult to master. They're not usually the first choice for professional harp players who want to play Blues, Folk, Country, Rock, Reggae, and Funk.
Which is the Best Brand of Harmonica?
The difference between brands of harmonicas is probably less significant than many passionate participants in harmonica forums might lead you to believe. As with any instrument, the player will actually have more to do with the sound produced than will the instrument itself (at a minimum threshold of say 3.4/5 Stars on the list above, for example.)
There's nothing wrong with investing a lot of money into a great instrument. But spending more money won't necessarily make you sound any better. The #1 thing that will make you sound great on the harmonica is playing the harmonica more! So may you come to a well-informed decision quickly, and get on with having fun and playing!
So, What's the Best Harmonica if I Want to Jam Along With Your Lessons?
If you are a beginner who would rather save money right now, any economical 10-hole diatonic harmonica in the key of C will be fine to jam along with my Beginner to Boss harmonica lessons. I prefer the East Top T008k. If you want the absolute least expensive harp you can get to test the waters, consider the Hohner Blues Band.
When you are ready to learn how to bend to get that bluesy sound, I STRONGLY suggest you try a Lee Oskar, a Hohner Special 20 or any of the harmonicas mentioned above that are rated 3.6/5 Stars or better, if you can afford it. If you are on a budget, the East Top T008k will still serve you well to learn bending.
If expense isn't an issue and you're NOT a beginner, then the Hohner Crossover or the customized Seydel 1847 Silver are both beasts of a harmonica. (see above)
I hope this article has offered you a ground-work for exploring all the wonderful options that are now available to us harmonica players. Remember, "The Best Harmonica" is ultimately a personal preference.
I'd love to hear about your favorite harmonicas below!