Buddy Greene is a master at playing country blues and playing F-A-S-T. There's a bonus lesson included with the "Breakthrough Blues" course where Buddy reveals some very intricate bending techniques as well as starting a student on the path to playing lightning fast. Click to check out Breakthrough Blues.
The year was 1957: a good year for Elvis Presley, with a hunk a hunk a hunk of hits topping the charts. And like people all over the world, a four-year-old boy down in Macon, Georgia could be heard singing two of Presley's latest and greatest. His name was Buddy Greene.

"I remember singing "You ain't nothin' but a hound dog" and "Jail House Rock, and all that rockabilly type stuff. Elvis made me excited about what I was hearing on the radio."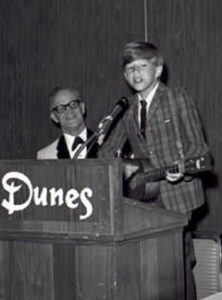 By the time the sixties rolled around, Buddy was knee-deep into folk music, singing along with Peter Paul and Mary, the Kingston Trio and Joan Baez.
Enter the ukulele.
"My sister had a uke" he says, "and she was four years older than me. Back then it was kind of common─ at least in our part of the country, for girls to go off to summer camp with their ukuleles and learn songs. And they were playing songs like 500 Miles and If I Had a Hammer – stuff like that. And she taught me those songs. It only took about four chords."
The ukulele was Buddy's first fore into playing a musical instrument. "The ukulele was perfect for me, he says, "as I was a little bitty thing, and my hands were just right for the uke."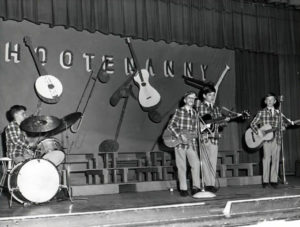 But, Like Puff the Magic Dragon's little Jackie Paper, Buddy Greene would move on to bigger things as he grew bigger, graduating from the ukulele to the guitar, as soon as his fingers were able.
And then… the Beatles came to America. The year was 1964; Buddy Green sat glued to the TV as the Fab Four made musical history the night they appeared on the Ed Sullivan Show.
Recalling the magic of that night, Buddy says, "Many people my age that are into music point to that epical event as changing their life." And Buddy was one of them.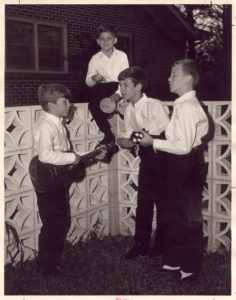 "The other part of my typical story" says Mr. Greene, "was the forming a band (Buddy's Buddies) in high school. We were kind of a local favorite around Macon, "and we played civic clubs and high school shows and battles of the bands. Our repertoire covered everything from the Beatles to Motown."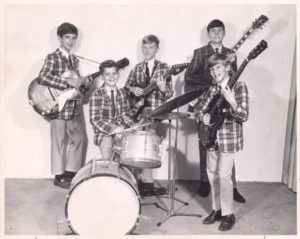 By the time Greene entered college the band has disbanded, but Buddy continued playing, listening and learning as he went.
And all the time, a nearly-forgotten harmonica sat waiting to be reclaimed in a drawer. He says that back in his ukulele days someone in the family (he can't remember who) gave it to him for one occasion or another. But he says, "I just couldn't figure it out, so it went into the junk drawer pretty quickly."
It would resurface during his years at Mercy University, where he was an English major. As the story goes, it was in his nineteenth or twentieth year that he watched a couple of his buddies fooling around with it and having a heck of a good time.
The wheels started turning.
Hmmm. Harmonica. Good time. Junk drawer…
And so it was that Buddy reclaimed his old harmonica, and this time, he found his way around it just fine.
"After ten or so years of playing guitar and learning by ear some of the rudiments of music, I could understand note relationships" he says, "and that it had a one and a five-chord on it –things like that.
"So I started messing around with it, and I was intrigued with the portability, express-ability, and the compactness of it – the fact that it could go anywhere with me."
And so it did, be it while delivering parts for an auto supply store, in a truck that didn't have a radio, or just heading down the road in his car on the way to somewhere or another. "I'd practice while I was driving" he says, "and that was my initiation.
"It soon became an obsession, and just about every chance I got I was picking it up and learning more."
During his college years Buddy hooked up with a band called Uncle Ernie, doing a little solo work on the side as time went on. Before long the harp became his calling card. "People knew me as a harmonica player," he says, adding slyly, "of course there's not a lot of competition in that field in a town like Macon, Georgia."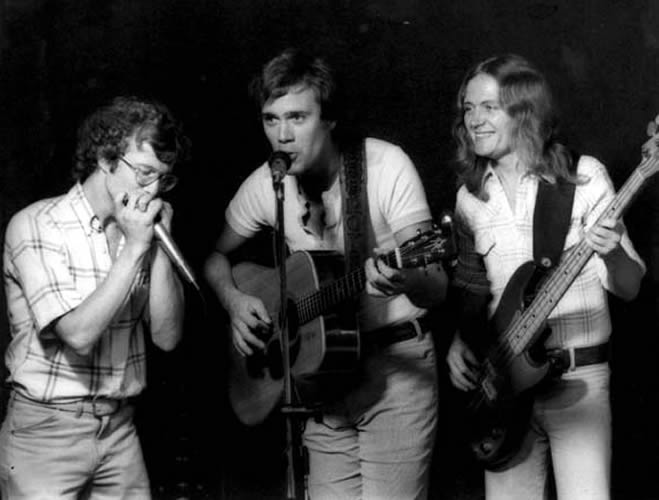 Competition or not, the timing was right. "I was discovering blues and country and folk and the roots of music" he recalls, "and I was hearing a lot more harmonica."
Among the best, The Nitty Gritty Dirt Band's Jimmie Fadden, whose work wowed him on cuts like Will the Circle Be Unbroken. Greene says he spent many an enjoyable hour trying to figure out what Fadden was doing, and playing along.
And then he discovered Charlie McCoy. "The thing that excited me the most about McCoy's playing was that he was playing such a wide breadth of musical styles.
"I loved blues and old time stuff ─ I loved the country blues of Sonny Terry, but Charlie would play everything from country standards to pop, to standards and bluegrass. He was really opening up the melodic capabilities of the diatonic harmonica to me."
This, at just about the time Buddy started playing bluegrass music. "I could play rhythm, but not lead guitar that fast," he admits, "so I started playing that fast on the harmonica. Charlie was a speed player, and so all of these things fueled my fire as a player."
Greene remembers well the day he got to meet the legendary musician.
"I made a pilgrimage to Nashville just to meet him in about 1980. I'd been playing seven or eight years by then, and I'd learned a lot of his stuff. And he was my biggest influence by far at that point. And I had a friend named Buddy Blackmon who was in the same musical circles as he was, and he arranged a meeting.
"I can remember very visibly the conversation we had at a little German restaurant called the Gerst House. We had a beer and talked shop, and spent about an hour. I just asked him question after question – it was a dream come true."
Years later, when Green was playing with Jerry Reed and living in Nashville, the two would play together on-stage for the first time. The following video captures the wit and wizardry of this magical combination.

We left Buddy back in Macon, where, not long after he'd returned from sharing brew and chew with Charlie McCoy, the phone rang.
It was Buddy Blackmon, the same fellow who set up that meet-and-greet with Charlie. Blackmon was working with Jerry Reed at the time. "He said that if I could get to Nashville in a hurry, I could audition for a spot in Reed's band.
"I got up there like a shot, and passed the audition. They were looking for a rhythm guitar player and background singer, but Jerry had always used a lot of harmonica in his records – usually with Terry McMiIlan, so he had a fondness for the harmonica, and that helped me win the gig."
Buddy Greene was twenty-nine and feeling fine, living and working in Nashville. But there was one ever-so-slight problem. "Once I got in the band there were two Buddys, and Jerry wanted to make up a new name for me so that he could keep us straight."
Turns out, Buddy Greene's given name isn't "Buddy" after all. Buddy, is his nickname. "My full name is Lee Rufus Green III," he says, "and I knew that Reed would love a name like 'Rufus', and I'd always like it too. So I suggested that to Reed, and of course, he was crazy about it. And so for the next four years I was 'Rufus Greene'."
But wait─there's more!
"Fifteen years later, I was doin' an album to celebrate my musical roots, and it was probably the funnest recording I ever was a part of. And so to sum up the whole 'roots of Buddy' experience that this album was trying to be, I titled it 'Rufus'."
Over the next four years Rufus-aka-Buddy would open for Reed, and play back-up for him on the guitar and harmonica.
"He was a great personality on stage and off" says Buddy, "and it really sort of defined his persona as an entertainer. He was a real fun-loving and obviously down-home country guy, but a real hot picker on guitar.
"A lot of people don't know this, but he is one of the top five players in country music history – his style is still imitated. He was a huge force, and a great song writer. So for four years I had a great apprenticeship in all the areas in which I was trying to grow: song writing, recording, entertaining, and just growing as a musician.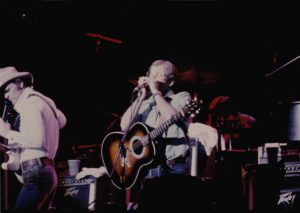 What did Buddy learn from Jerry Reed as far as being an entertainer goes?
"My personality and Jerry's were not unlike each other, in that we both liked to help people have a good time. And I think that's still what I'm looking to do. I want to help them relax, have a good time and enjoy the experience."
After four enjoyable years with Reed, it was time to move on. "Jerry's career was at a point where he wasn't as in demand, and he couldn't justify a six-piece band anymore; he was going to have to cut back. And I had ambitions of my own. I'd been working on a solo gospel album, and I had another job waiting. And so it was a very amicable parting, and I was thankful to move on."
The job Greene alluded to was a gig with Bill Gaither, a major force in the world of southern gospel music. Gaither had heard Buddy's album, liked what he heard, and asked him to be a part of his concert road show, offering him a job at the same time. "And so basically I left one job and went on to another one, playing to a whole different audience."
Once again, the timing couldn't have been better.
"When I started working for Jerry I had a conversion experience, and become a Christian. So I was excited about my faith and reading the Bible and all the implications of that, and I started writing songs about that. And that's what led to the opportunity to record my experience."
Buddy believes Gaither was drawn to the way he used country and bluegrass stylings to carry the message of his songs. "I didn't really fit into any format" he says. "And that was kind of fresh for Bill."
Buddy was part of Gaither's tour for five years, but the association continues to this day, with "special tours, cruises, videos─all sorts of stuff."
At about the same time as Buddy began touring with Gaither he started working on a second album. It was an instrumental harmonica record called Praise Harmonica.
"That was something that executive record producer Bob MacKenzie wanted me to do," explains Greene, "and I was glad to do it. It gave me a chance to play hymns, gospel songs and spirituals, and it put me on the map as a harmonica player ─at least in the Christian music world, which was, again, pretty novel – not a lot of competition."
He laughs.
And on a more serious note, Buddy says, "Bob became a mentor and business associate until he died in the year 2000. He really helped my whole recording career up to that point."
It was during those first years with Gaither that Buddy met Mark Lowry, who was also singing and performing with the group. "Mark gave me the lyrics to Mary Did You Know, and I wrote some music, and he liked it," he says, neither one realizing what the results of that collaborative effort would be.
"And now all these wonderful artists have recorded it," he says, still marveling at the way things have unfolded.
Mary Did You Know has been recorded numerous times; a short list includes names like CeeLo Green, Kathy Mattea, Natalie Cole, Kenny Rogers and Wynonna Judd, Glen Campbell, Reba McEntire, Little Big Town, Clay Aiken, the Braxtons, Pentatonix and Mary J.Blige.
"The first person to record Mary Did You Know was Michael English," recalls Greene, "and it was played over the radio some, and got into the Top Ten on Christian radio, but it didn't make a big splash at first.
"But about a year later, Kathy Mattea – a country artist – recorded a version on a great Christmas album, and performed it on a network special called Christmas at the White House. And I had been notified that it was going to be on – and so I was watching.
"And she said it had become her favorite Christmas song. And it was great seeing something that I was part of on a network special, and realizing that millions of people were watching. But that's what gave that song its initial momentum, and within a year or so other artists recorded it, and it almost got a life of its own."

Does he have a favorite version of the song?
"I have several" he says."Kathy's is actually one of my favorite versions – and the Michael English version. They're very different – Michael's is more of a pop, and Kathie's' is more of a folk arrangement." He's also a fan of the Pentatonix's take on the tune.
How did he hear it? "I heard it more as a folk song."
But one need only to spend a little time on Youtube, listening to the wide variety of arrangements and artists along with the comments below, to realize how extraordinarily versatile the melody is, and how many lives the song has touched.
Not one to sit on his laurels, Buddy kept on keeping on, moving from one genre to another as he played his way around the musical spectrum,.

Over the years, Buddy Greene has spent a good bit of time on stage and in the studio, performing and recording inspiring music, often with the aid of those who inspire him. Among them, a man named Cliff Barrows.
"I met Cliff back in the late 1980's" he says. "He was the song leader and choir director for the Billy Graham Crusades from the time they started back in 1947, until shortly before he passed away. "He was a harmonica player, and carried one with him, and he loved my playing. And when we met, he heard me sing my songs and play the harmonica, and invited me to a couple of crusades." In the decade that followed Buddy would be a part of four or five of the late preacher's crusades.
He says he met Billy Graham, shook his hand and said a few words, but he didn't get to know him, adding, "I admired him from afar. Music was the language he used to spread the gospel. – a high calling, and one he didn't take lightly.
"My friendship was with Cliff – especially as he got older. He would do these things called Senior Celebrations at the Billy Graham Training Center outside Ashville, North Carolina.
"Actually, it was Cliff and George Beverly Shay, who was about 100 years old at the time (he lived to be 104). It was basically a senior retreat; there wasn't anybody there under 75 (we were the young pups in our mid-50's), but I always had a great time. Cliff was a prince of a man, with a love for people, but my fondness is really for the whole Billy Graham organization: for that key team."
Perhaps the most memorable event during of those years took place sometime around 1992, when Greene was a part of a Billy Graham Crusade in New York's Central Park.
"I was terrified. There were a quarter of a million people, and I was forgetting the words to my song, and I couldn't wait for it to be over. But some great memories were also a part of it.
"I did like playing Amazing Grace on the harmonica on that stage, because I could have played that melody in my sleep – and I didn't mess up.
"And Johnny Cash and June Carter were there. And during a sound check Johnny was using the Graham organization's piano player to back him up on a country gospel song. And he saw me playing my guitar and asked, 'Do you know this song?'" Buddy said he wasn't sure, to which Cash replied, "Well it's only three chords."
"He was going for more of a band than just Billy Graham's piano player. So I got to play back-up for Johnny Cash on that crusade, and that was really fun."
Over the last three decades there have been many memorable moments on the road and in the studio, "and a big part of that," says Greene," has been the harmonica."

Back in his Macon days, Buddy and his Buddies would have been hard-pressed to imagine him playing Carnegie Hall. But back in 2001, he did just that. As Buddy tells it, "Bill Gaither had a concert there a few months after 9/11. He had invited this star-studded list of performers, like Andre Krause and Sandy Patty and all these big names in the gospel world, and I was there to play along with the band.
"That afternoon──during the rehearsal, I was standing on the stage with Bill, and I thanked him for inviting me. And he asked me if I'd like to do something on the program. And I said, 'Are you kidding?' And he asked me, 'What would you do?' And I said, 'Well, you and I used to do a routine when I toured with you, so something like that."
Greene was referring to a classical melody he'd been playing for years. Gaither thought that would be fun.
"I said, 'You hold the mic – you'll be my straight man, and either it'll be good, or you can leave it on the cutting room floor.'"
Not to worry. "It turned out that it got a standing ovation," says Buddy, who attributes it to the fact that "nobody expected a harmonica player to play Bach and so on. I'd been performing some version of it for twenty-five or thirty years, so it was easy to pull off.
"It eventually got on YouTube and went viral."

While no two gigs are alike, there is generally some sort of commonality to them. But every now and again, something totally different and unexpected comes along: a one-of-a-kind moment in time that is unlike anything you've ever done before. For Buddy Greene, that moment took place on the Late Late Show with Craig Ferguson.
Ferguson had seen the Carnegie Hall video, and asked Buddy and accordion player Jeff Taylor if they would appear on his show and basically do whatever he asked them to do.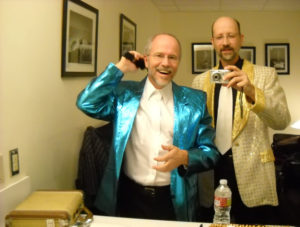 They were game, and so they flew to LA and headed for the studio, where they suited up, did a sound check, and waited….and waited…and waited for someone to tell them what they would be doing in a matter of hours.
Make that minutes.
"They had dressed us up in these lamé jackets", recalls Buddy, "and we were standing in the wings. Finally, five minutes before show time [taping], we met Craig Ferguson. He had seen our sound check, where we had played this song called Cluck Ol' Hen, and he asked, "What was that song you were playing?" And we told him, and he said, "Okay, here's how we'll open the show …'"
Ferguson went on to explain that while he stood in front of the camera welcoming everyone to the show, a little person dressed up like a jockey and wielding a whip would chase two men dressed in a horse costume around the stage as Buddy and Mark waited for Ferguson's cue. Greene remembers him saying, "I'm going to point to you, and you'll play that Cluck Ol' Hen thing for five-to-ten seconds, and I'll cut you off.
"What do you think about that?"
"And we said, 'It's your show.'" [We can envision a bit of head-scratching here]
"And so we did it."
The show taped at five, and, as directed, the two musicians, stood off to the side, flanking Ferguson's skeleton robot sidekick, manned by comedian Jeff Peterson.
In the end, much to their surprise and delight, the bit – was a hit. "The crowd was really into it," says Greene. "They went crazy. And we were off and running."
As for Mr. Ferguson, Buddy says, "He was as nice as he could be, treated us royally, paid us well, and put us in a nice Beverly Hills hotel. But it was one of the most bizarre experiences I ever had."
Never heard Cluck O' Hen? Here's Buddy, sans lame jacket, accompanied by Chris Joslin on banjo, in a 2016 episode of Larry's Country Diner.

While The Late Late Show may have been Greene's most unusual gig, it had lots of company when it came to memorable moments. Buddy fondly remembers playing a harmonica solo in Rockin' Around the Christmas Tree, alongside Brenda Lee during a Nashville Christmas event.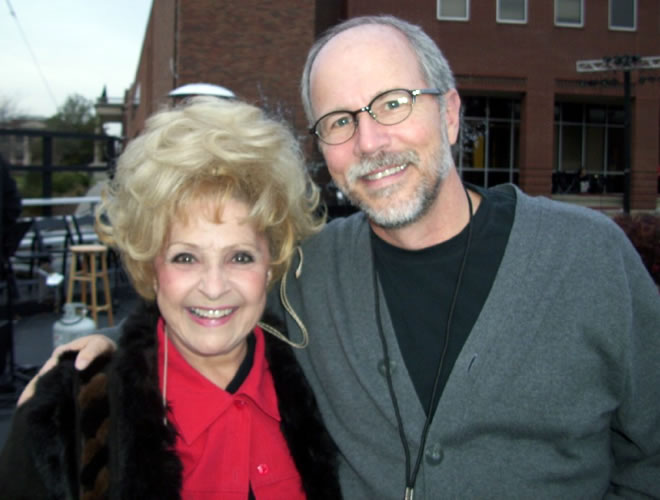 But make no mistake. Buddy Greene is serious about his music. "I think that over the last sixteen years I've probably grown more as a harmonica player than the thirty years prior, probably because I've been more of a student. I think I was underestimating what you could do with a harmonica. So I'm having a good time learning what I can accomplish on this instrument."
So what kind of music is Buddy Greene into these days? "I love fiddle styles of music" he says, "Celtic, old time, blue grass, Texas swing – anything that has a fiddle as the main instrument voice."

"Fiddle is such a great instrument; I wish I could play it", muses Greene."I tried once, but I didn't have the patience. It's' so expressive. But there's a similarly with the harmonica, so I try to find a fiddle-like voice on the harmonica – especially with those old styles of music. But at the same time, I'm also trying to broaden my pallet in other styles like pop and blues and jazz. It's all helpful in becoming a better musician. I like to listen and play a wide variety of music."

From gospel to classical, Celtic to country, the harmonica is a constant presence in Buddy Greene's music. Three of his twenty albums are dedicated to the harp, but he's played harmonica on all of them. "This latest one [Looking Back] has quite a bit of harmonica on it" he says. It is a retrospective, thus the title.
We asked Buddy if he had any tips he'd like to pass on: things he's learned along the way that have made him a better musician, singer and songwriter.
"I would say – don't be afraid to get out of your box. In other words, if you've majored in the blues – if that's been your passion – that's good, and that's a good basis, and a good thing to always return to. But I would say go explore some other schools of music: Country. Bluegrass, Celtic or any of these, because I think what that will do is just broaden your approach. Even in blues, you'll become a more original player, coming up with things you wouldn't have come up with otherwise. I sort of neglected blues over the years, and now I'm trying to learn more so that I can become a better blues player." To this he adds, "And have fun – just make sure you're havin'' fun.

"Just make sure you're havin' fun." They are words that take Buddy back to Macon, Georgia, and the parents who cheered him on when he left for Nashville all those years ago.
"My parents were my biggest fan club – they loved to watch me perform. My dad helped me buy my instruments. They probably were doubtful in that it would be something I would make a vocation of because they didn't come from that world – but they didn't want to stand in my way either."
"My dad was a commercial contractor and he had a business that he would have loved for me to be a part of. But I had no affinity for it. And when I told him that I was going to try and make music my livelihood, he said, 'If a man can find happiness doin' his job – if he can find a job that he enjoys – he is a blessed man." So he wanted that for me – to do something that I enjoyed doin.'"
As for his mom, Buddy says that while she supported his choice, she worried about his ability to make a living, knowing that the life of a professional musician is often filled with uncertainty. And so she asked her then thirty-year-old son, "What are you going to do when you turn fifty?"
"Of course it was there before I knew it," says Buddy, "But it was a good question for her to ask. And I think even then I probably said, 'God will look after me; you don't have to worry about that.
"And He has."
For more on Buddy Greene, his music, upcoming performances and events head for buddygreene.com.