If you want to learn to play the harmonica, look no further...
You've come to the right place. Begin the musical journey of a lifetime. I'll provide you with a foundation for a life-time of harmonica-playing and music-making with

 "Music that Fits in Your Pocket"

...
You'll Be Makin' Music in Minutes!
With My Complete Beginner's Harmonica Method...
Over 15 years of teaching mass harmonica lessons, I've developed a unique method for teaching beginners that brings the whole body into the learning.
With this kinesthetic approach to learning, I've found that students make progress fast and are creating real music within minutes.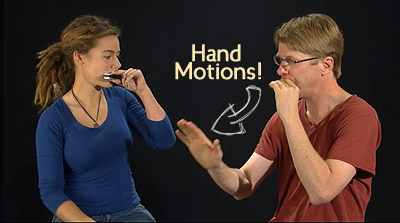 Instead of a traditional, boring note-by-note method my kinesthetic method turns learning into a fun process, using special hand motions. It's amazing how the "hand motions" unique to this method increase the quality and speed of learning.
No other method uses hand motions the way mine does -- and hand motions work. This method focuses on quickly building a foundation upon which to build a lifetime of harmonica playing.
The lessons move quickly and easily from the beginning steps into creating real music - within MINUTES. For real. A focus on letting out that music that we carry with us wherever we go.
What is

"Music that Fits in Your Pocket"

?
300 Minutes of Online Video Lessons and Companion Ebook...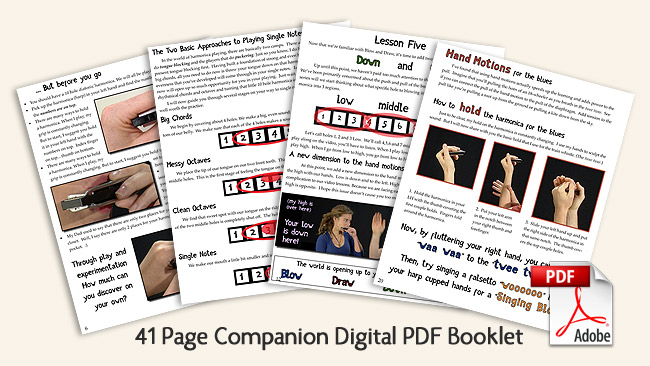 "Music that Fits in Your Pocket" is over 300 minutes of top quality online instructional videos. When you order, you'll get instant online access to these videos, right away...
No waiting for the mail man! All the videos are provided ONLINE, in easy to access affordable digital format. And, as soon a you order, you'll also get instant access to...
A full color, very clear, step by step companion e-booklet. This ebook lays out everything in the videos for quick reference.
Moments from now you can have access to the online videos and booklets and be makin' music in minutes! (After ordering you will be taken to a special members web page were you can access all the videos and ebook)
These lessons were created especially for beginners of all ages and all backgrounds, "the whole family," so to speak. This method is highly effective for people of all ages. This series works great on a small screen in a home office, but it can also be used in living rooms, elementary schools, retirement centers, prisons and community centers.

It works effectively with individuals and also in groups... as many people as you can fit around your screen. And for you intermediate players -- practice the principles in this series and your playing will be transformed.
Here's What You'll Learn
Harmonica Foundations, Songs and Jams Galore...
You will have tools for releasing that music that's inside of you.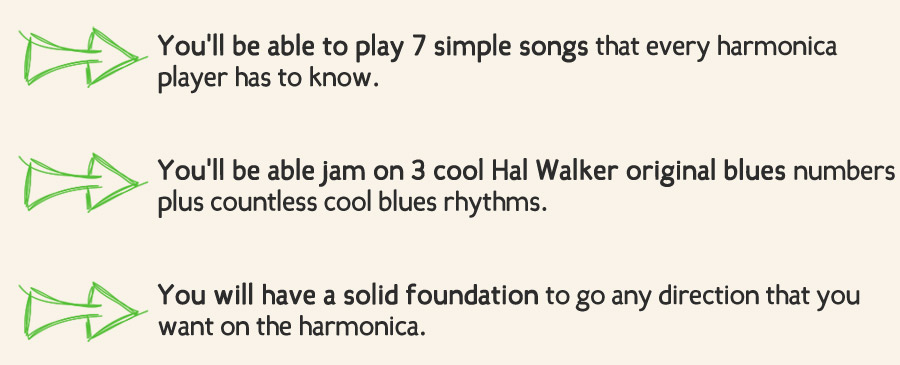 It's a holistic, full-body approach to learning that will put a smile on your face and a spark in your soul. "Music that Fits in Your Pocket" is your first stop on the way to wherever you wanna go ...
The Blues ~
Folk ~
Pop ~
Classical ~
Original ~
Improvisational
It all begins right here with two simple choices - Blow and Draw
Purchasing Hal Walker's harmonica foundations video series is easy. Just click the "order now" button below and you'll be directed to our secure online checkout. As soon as you complete the order, you will have full access to all 16 lessons (more than 300 minutes) of video, as well as the digital files of the "Music that Fits in Your Pocket" companion booklet. You will be able to watch on your laptop, desktop, tablet or mobile device immediately...

Hopefully someday, you'll get to experience in person one of my "Hal Walker Mass Harmonica Lessons for all Ages." It's a powerful musical experience of breathing, rhythm and community. Be sure to check out www.harmonica.com/hal to find out about upcoming events.
If you're interested in a one-on-one lesson with me, then please email Hal@harmonica.com. I offer private lessons on Skype or Facetime for $75/hour.
"Music that Fits in Your Pocket." It's an immediate, affordable way to get you started on your harmonica journey.
From JP Allen: "Hal was my first great harmonica teacher 25 years ago. Before Hal, I quit music twice. First I flunked the Cello then I quit the Piano. I decided music wasn't for me and considered myself musical train wreck. The moment Hal started teaching me harmonica, I went into mind boggling dimensions I only dreamed were possible. Hal helped me become a lightning fast harmonica player. But more than that, he developed my confidence to sing, write songs, and play any instrument I choose. Hal helped me fall back in love with my favorite thing about being alive...music."
Order Today for Just $67
Click "Add to Cart" to Get Started Now...
Includes FULL 1 Year Money Back Guarantee (backed by Harmonica.com)
Special thanks to www.harmonica.com for offering a full 1 year money-back guarantee. This video series is a risk-free way to work one-on-one with master teaching-artist, me, Hal Walker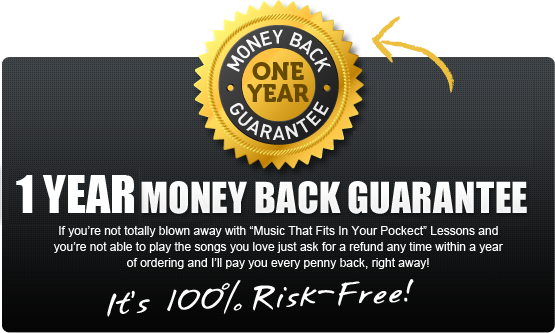 All you have to do is email anytime through at jp@harmonica.com or call 1-800-292-4963 within 365 days of your purchase and... We Will Give You a Full Refund (No Questions Asked)
Thanks for taking the time to read this page and watch my video. If you feel inspired please go ahead and click the "add to cart" button above so we can continue our musical harmonica journey together!





Hal Walker
Email: hal@harmonica.com
Phone: 1-800-292-4963
What Others Are Saying About Me...
"Hal Walker has a pied-piper effect on people" ~ Cleveland Scene Magazine

"Hal was just the kind of artist we love to collaborate with.His wonderful blend of formality and play was fascinating to intellectuals and preschoolers alike. I'd jump at the chance to work with him again." ~ Kelly Armor. Folk Art and Education Director, Erie Art Museum
"Hal instilled a greater love for music in all of my students and taught them skills that will benefit them for life." ~ Stephen J. Zinser, Principal, St. Vincent Ferrer
"Hal Walker touched our students' lives. He connected with them in a way that made each child feel like he or she is the most important person in the world." ~ Candy Wingert, principal, Washington School, Tiffin, Oh
Hal Walker's Mass Harmonica Lesson is truly extraordinary. It was the highlight of our 2012 Children's Day Festival, and an unforgettable experience. People are still shouting "We Want More Harmonicas!" In my twelve years of festival experience I have never seen anything like it. ~ Colleen Reilly, Director, Kaleidoscope Arts Festival
"...Hal offered an extremely engaging, community-oriented harmonica workshop that appealed to children and adults alike. Hal's passion for sharing music was clearly evident in his story-telling, musical performance and wonderful harmonica instruction. At the conclusion of the workshops, the participants left with not only a good sense of how to play the harmonica, but a feeling of carrying "music in their pocket"that's sure to last a lifetime!" ~ Jennifer Shoup, director, Piano Preparatory School, Beavercreek, Ohio
"...the result is an exhilarating fusion of traditions presented with carefully crafted nonchalance. Hal Walker's virtuosity and disarming stage persona are guaranteed to bring the house down." ~ Cleveland Free Times
"...the mind boggling musical talents of Hal Walker. His command of even the simplest of musical instruments stole the limelight."~ Exploredance.com