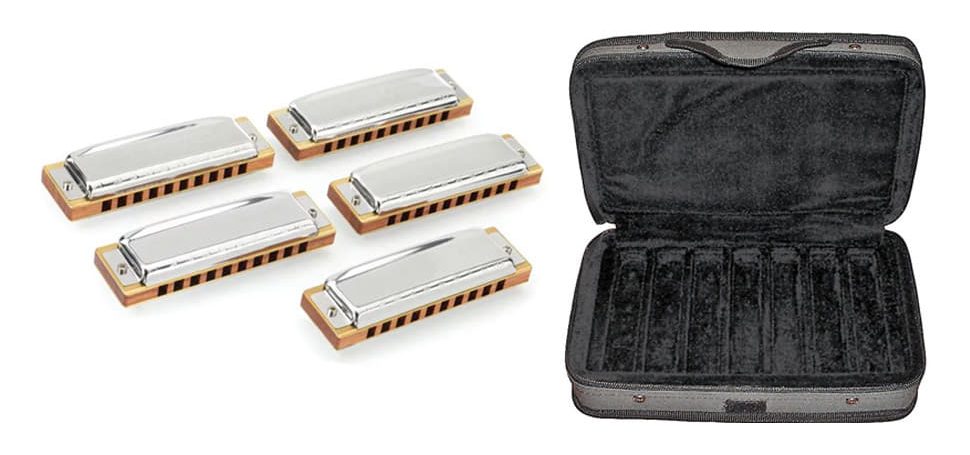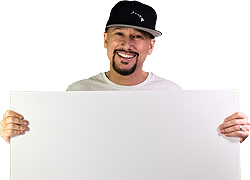 Features:
Keys G, A, C, D and E
10 Holes
20 Notes
Diatonic Harmonicas
Reedplates: 20
Comb: wood
Made in Germany
Get a Single Key of C Blues Harp here.
Is the Hohner Blues Harp Any Good?
The Hohner Blues Harp is a 10-hole diatonic with a wood comb. So, if you prefer plastic or want a chromatic, you should avoid it. But, if you're looking for a good diatonic, it produces one of the best sounds among the diatonic harps that cost about the same amount. If features 20 reeds with brass reed plates. According to Hohner, the reeds are designed to be long-lasting, but some consumers say that the reeds actually need to be adjusted or replaced fairly often. Another problem is that the front of the reed plates has a bit of a lip, or sharp edge. So, this beginner's mouth harp should definitely be played carefully to avoid any cut lips.
From the Manufacturer
The Case of Blues Harmonica 5-pack gives you Hohner 532/20 Blues Harp harmonicas in the keys of G, A, C, D, and E. Keeping them nice and protected is a padded gray case with a black plush interior that fits a total of 7 harps. It has a hook-and-loop fastener as well as a zipper to keep them from falling out, and a handle for easy carrying. These 20-reed harmonicas feature a wood comb, are great for 2nd position note-bending, and are made in Germany.
Until now, harmonicas just weren't made for blues. For one thing, they didn't last. After two or three blues sessions it was tough even for a musician like Mel Lyman to get a good sound. The punishment of blues wailing often caused the reeds to lose pitch and flat out.
Hohner's diatonic harmonicas set the industry standard through their high quality construction, excellent response and unsurpassed tone. Often called "Blues Harps", they have been a fixture as melody and accompaniment instruments in blues, rock, country, and folk bands, as well as many other styles of music and musical ensembles. Richter tuning and undivided air channels allow for bending and overblowing the reeds, creating the signature wailing sound typical of the harmonica
PROS
Replaceable reed
Solid construction
CONS
Like all the M.S. Hohner harps with replaceable reeds…. absolute beginners will find it hard to learn to bend as the reeds are robust. If you're a beginner and want to learn to bend and you want to try a Hohner harmonica best try the Hohner Special 20 (still good for blues).