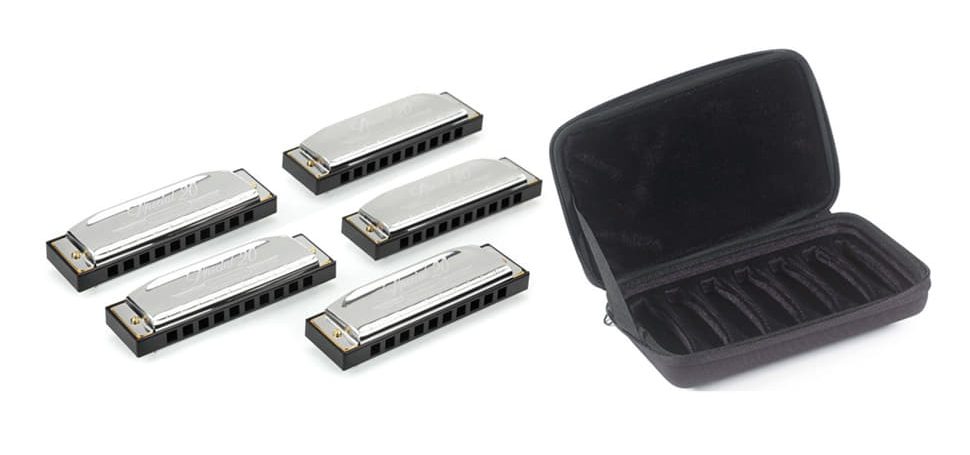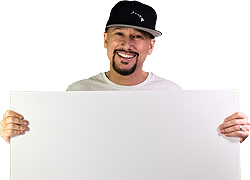 Features:
Made in Germany
Reeds: 20
Reedplates: Brass; 0.9 mm
Comb: Plastic
Length in cm: approx. 10.0
Package includes:
Hohner 5-Pack SPECIAL 20 Harmonicas.
Includes Keys: A C D E G
FREE HOHNER SOFT CASE!
Is the Hohner Special 20 Any Good?
Verdict – The Hohner Special 20 was developed in the 1970's to be more comfortable and easier to play than the original Marine Band harmonica, and with the plastic comb and counter-sunk reed plate, there's no doubt that they accomplished their goal. It's warm, dark tone, and excellent responsiveness and bendability, along with being comfortable on the lips when playing for long periods of time, make it the choice of countless pros, including John Popper of Blues Traveler. 4.2/5 Stars Total.
Bendability – The Special 20 has always had a reputation for being very easy to bend out of the box. Both the draw bends and the blow bends on this harmonica were very easy to execute and control with precision. 5/5 Stars
Comfort – Comfort is one of the areas that the Special 20 really excels. It was the first harmonica to be manufactured with the reed plate counter-sunk into the comb so that your lips are not exposed to the edges of the reed plate. The plastic comb is much easier on the lips than a wooden comb harmonica. Still, the corners are pretty pointy, so holding it for long periods of time could be uncomfortable, so I dock it one star. 4/5 Stars.
Tone – The Special 20 has brass reeds, but I guess because of the plastic comb, the harmonica has a dark, warm tone compared to the Hohner Marine Band which is brighter, and the Hohner Crossover which is the brightest of the three. It sounds really beautiful for chords as well as single notes. 5/5 Stars.
Responsiveness – No problems here. Responds exactly as I'd hope a harmonica would from hole 1 to 10. Easy to play fast. (I guess that's why John Popper chose it!) 5/5 Stars.
Looks – This harmonica ain't much to look at. A black plastic comb and stainless steel cover plates don't create the sexiest looking harmonica. To make matters worse, the only key label is a difficult-to-read engraving on the cover plate, which is virtually impossible to see in a dark club. A professional would likely have to put stickers or paint labels on it. Can we get some key labels, Hohner? 2.5/5 Stars.
Durability/Fixability – The plastic comb is much more durable than a wood comb. It's obviously not susceptible to any swelling, splintering, or cracking that a wood comb could be over time. Most of my life I have played Lee Oskar harmonicas, but about 10 years ago I switched to Special 20 because I found them easier to bend. However, after several months I switched back because I was blowing the reeds out on the Special 20. I was probably playing way too hard and that was a long time ago, but did want to share my experience here. The cover plates do have screws so the harmonica should be easy to fix/tune.
From the Manufacturer
Awesome response, superior bendability and the sweetest tone ever. The Special 20 harp is the first choice for those learning to play. Its special airtight design makes it the most recommended go-to harp for harmonica players of any style, including blues, country, folk or rock. The plastic comb doesn't absorb moisture making it longer lasting. Harp of choice of harmonica virtuoso John Popper (of Blues Traveler) and played by Bob Dylan on his 2007/08 tour. Chances are your favorite player has several of these harps in his case.
Hohner Diatonic
Hohner's diatonic harmonicas set the industry standard through their high quality construction, excellent response and unsurpassed tone. Often called "Blues Harps", they have been a fixture as melody and accompaniment instruments in blues, rock, country, and folk bands, as well as many other styles of music and musical ensembles. Richter tuning and undivided air channels allow for bending and overblowing the reeds, creating the signature wailing sound typical of the harmonica
PROS
Bang for the buck, this is a solid harmonica.
$324
$223
Keys of A, C, D, E, G